Text patch is out for both sets. These are minor patches to make some cards easier to read.
July/12/2013
Set-2 Divine Reinforcement is out! Be sure to go to the Set page on the left to download it!!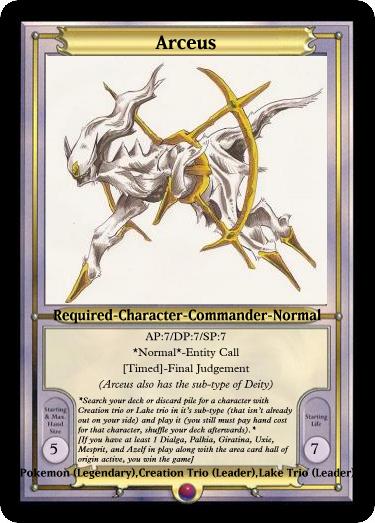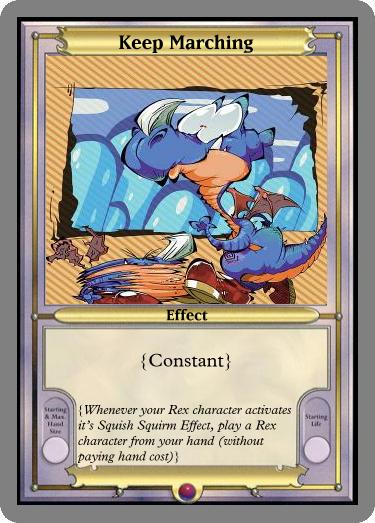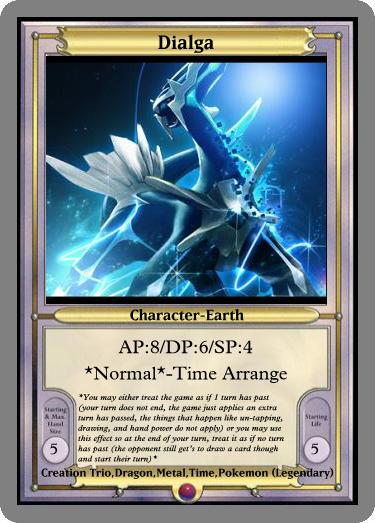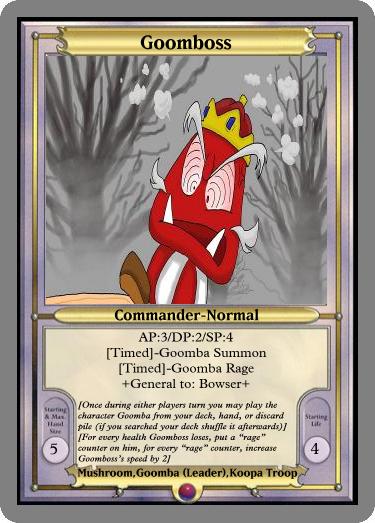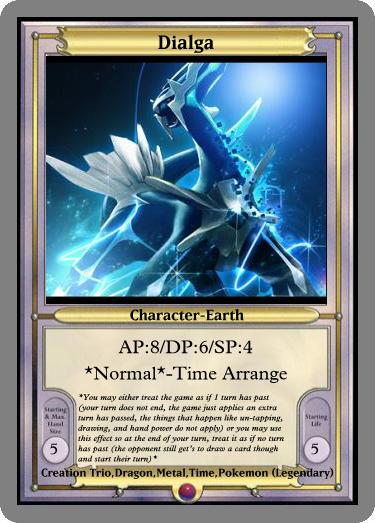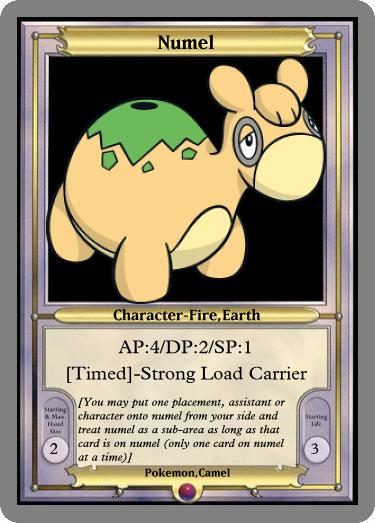 June, 12, 2013
Another Patch Update
Numel has been changed
Should be the last one. Set-2 and rules should be out this week
May 7th, 2013
Another Patch update.
Dragonite was changed to a level 4.
Heatran had his legendary sub-type added
Small typo's on Dragonite and Ganondorf Fixed
Ganon's Sub-types were adjusted
The individual patched cards will be placed below.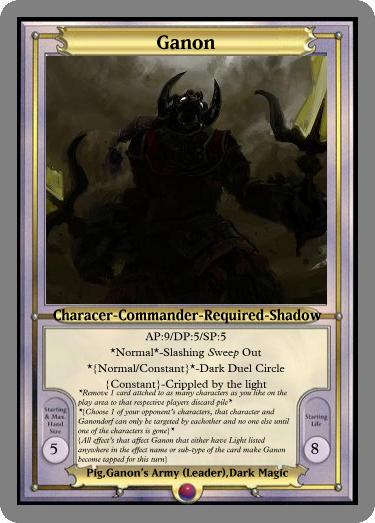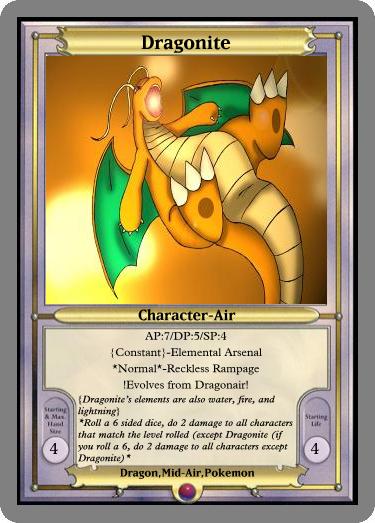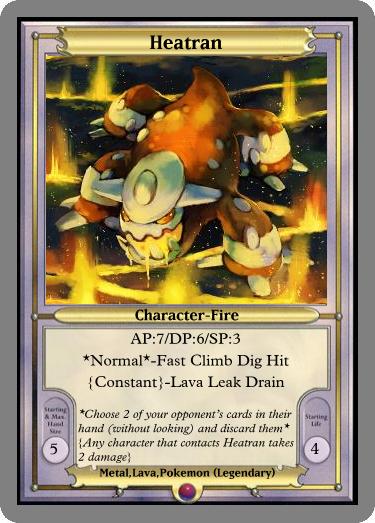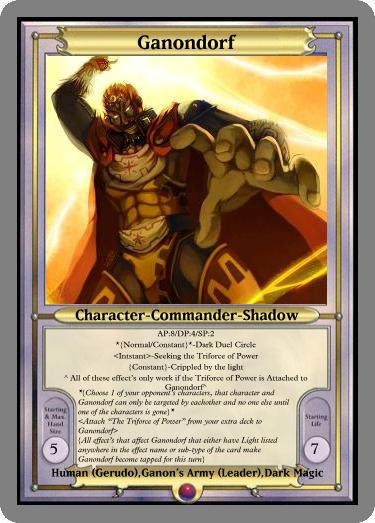 May, 5, 2013: I apologize While Set-1 was officially released yesterday, there were 4 cards that were quickly errated (minor word missing for the most part) the set is up to date with the patched cards, below are the cards that got slightly changed post release. This should not happen again.
Changes:
*Fast Attack's wording was changed at the bottom from "the" to "your". This was due to the fact that Fast Attack would have been extremely broken being able to give a free attack and tap that same character.
*The Bug (Prey Mantis) Sub-Type was added to Vulcain
*Stone Mask's Sub-Type was changed from Stone to Rock to keep consistency with the other cards
*Phantom Ganon's Second Effect now requires hand cost to be played in order to bring him back from the removed area. If this didn't happen, you would have been able to constantly heal Phantom Ganon and stall out the game
My Appologies. Set-2 will actually be out really soon! But I will get the new Rules out first!
Thanks! - SPIRE_FAN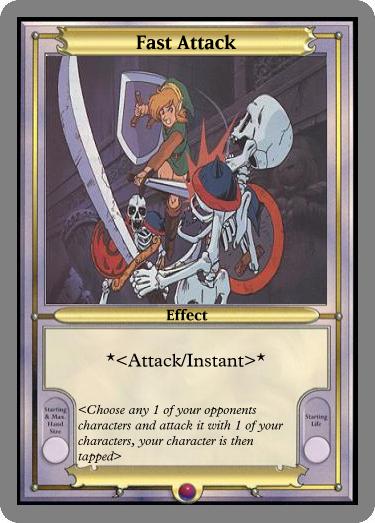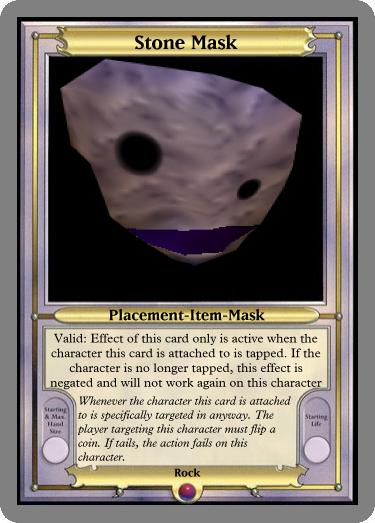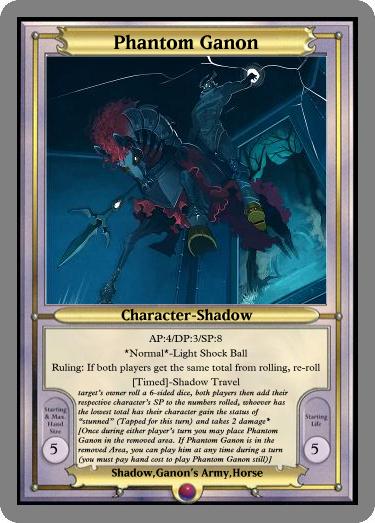 May/5/2013
Download Nintendo TCG: Set-1 (Final Version) here!
The rules will be posted later.
August, 31, 2011
Ill clean up this site a lot when i get the time.

But here is the link to download street fighter mugen edition.
http://www.youtube.com/watch?v=j6b65k5VkKs

April, 25, 2011
ALOT OF STATISTICS HAVE CHANGED IN MODIFIED MUGEN PERCENTILE'S
ALSO, CLUB JOURNAL FROM 1-2 Weeks AGO has been Uploaded
Seeya at the m-mugen 2.0 odubles tournament tommorow. :)

April, 10, 2011 (11:25PM-Sunday)

*Pant* *Pant*. Ok...i have finally...caught up and updated EVERYTHING that has needed to be updated...*pant*...i am now heading off to bed (probably at 12 am lol)

March, 2, 2011
Alright club stuff is updated! Check em out! Im also in works of nintendo tcg set 2! REQUEST CARDS NOW!

Feb, 24, 2011
Modified Mugen 2.0 Is Finished And Released!

Note: i will now be working on nintendo tcg set-2....2.0 will be the tournament mugen for A WHILE. so get comfy and master it

Feb, 21, 2011
The Character Guide To Guile Has Been Posted!
http://nintendostorm.proboards.com/index.cgi?board=mugen&action=display&thread=69

Feb, 18, 2011
Mugen 1.2 Uploaded

Journal Uploaded
Tournament Standings Uploaded
No Club This Tuesday (and my birthday)
GET GOIN!

February, 8, 2011
Club Journal has been synced on to the site! Lookin for moderators on the forums! Download Mugen For Tournament 2moro!-SPIRE_FAN

February, 1, 2011
MOTHER SHEEGOTH ERRATA MOTHER SHEEGOTH ERRATA MOTHER SHEEGOTH ERRATA MOTHER SHEEGOTH ERRATA MOTHER SHEEGOTH ERRATA MOTHER SHEEGOTH ERRATA MOTHER SHEEGOTH ERRATA MOTHER SHEEGOTH ERRATA

DO IT! IT IS REQUIRED! Set-1 Download It! Get THIS VERSION

February, 1, 2011
BLIZZARD! Yikes! Blizzard Attack has struck us. (but hey stay on schedule is what i say). It's all good. Also updates on the journal and attendance.-SPIRE_FAN
PS: stay safe guys

January, 30, 2011
Little behind in updates (bout over 1/2 flash drive got deleted) yeah and school work. don't worry im keeping the site and club at a good enough pace to not kill it any bit. But hey astro man has joined the chat. Club journal and all probally 2moro. (still got some school work to do right now) alright gotta get back to my biology review on DNA.-SPIRE_FAN

January, 18, 2011
Club updates for week 2 have been made

January, 18, 2011
Album number 1 for original nintendo music is finished! Please check it out on my music section to the left-SPIRE_FAN

January, 17, 2011
Working on album 1 of the Nintendo Storm - Nintendo Original Soundtrack's - Album 1
It will most likely be for prize support on the upcoming nintendo tcg tournament (January 25th 2011)

January, 4, 2011
Journal Has Been Updated! Along with Nintendo TCG Set 1 (Official Polished Version) HAS BEEN REALEASED!!! and MODIFIED MUGEN 1.0!!!
So you know the drill go to the Nintendo TCG Sets Part and Download and to the modified mugen section for download!
Thanks-SPIRE_FAN

November, 30, 2010

Simple Pokemon Modified Cards Are-Up!!!

http://www.bebessearch.com/pokedex/Pokedex.aspx?showall=true
http://pokebeach.com/

Click, Download, And play!!!

November, 9, 2010
Had a pretty decent day it was just a hang out day since set-1 isnt fully cleaned up yet. Nice and relaxed only a 3 people turn out but it was cool.
November, 8, 2010

*New Article!* I have put a new article on the site. It is about Tournaments and what you need to know.

November, 8, 2010
Woah hey guys umm wow. So about those updates. Well you see with summer break and marching band. Nintendo TCG has it's time off. But we are starting the first official season!!! Set-1 should be finalised for the last time with no errata's. Set-2 is doing ok right now it's still in the works...alot. but hey download set-1 and start and start playin-pete

May,25,2010
Wow more Erat'as still 0.o but trust me youll nedd them (set-1)
May,20,2010
Latest version of set 1 is up! please go to the Nintendo TCG Sets side bar on your left to update <---
April,29,2010
Hey guys SPIRE_FAN here yes i have re-done the website and now im ready the frist was just completed today so email me if you wanrt to get them (or ill just post them on the forums) btw join forums if you havn't already-SPIRE_FAN
nintendostorm has started
get ready
welcome to nintendostorm.com this is a dedicated nintendo site we have different sections we have the forums the chatrooms and the nintendo TCG section along with the news section aswell hope you enjoy it-spirefan
B1 - GeckoYamori - Flash the Funk (Ground Man vs. Flash Man).mp3